JDIAG TPMS Relearn Tool T508 Tire Pressure Monitoring System Sensor TPMS Activation Tool
Brand:
JDIAG TPMS Relearn Tool for GM Ford Toyota Jeep Dodge Honda Series Vehicle Universal TPMS Reset Tool T508 Tire Pressure Monitoring System Sensor TPMS Activation Tool 2022 Upgrade Edition
Security Payment
Guard your secure payment with SSL.
Delivery Policy
Handling time with 24 hours.
Return Policy
30 days free return, 3 months exchange, 3 years warranty.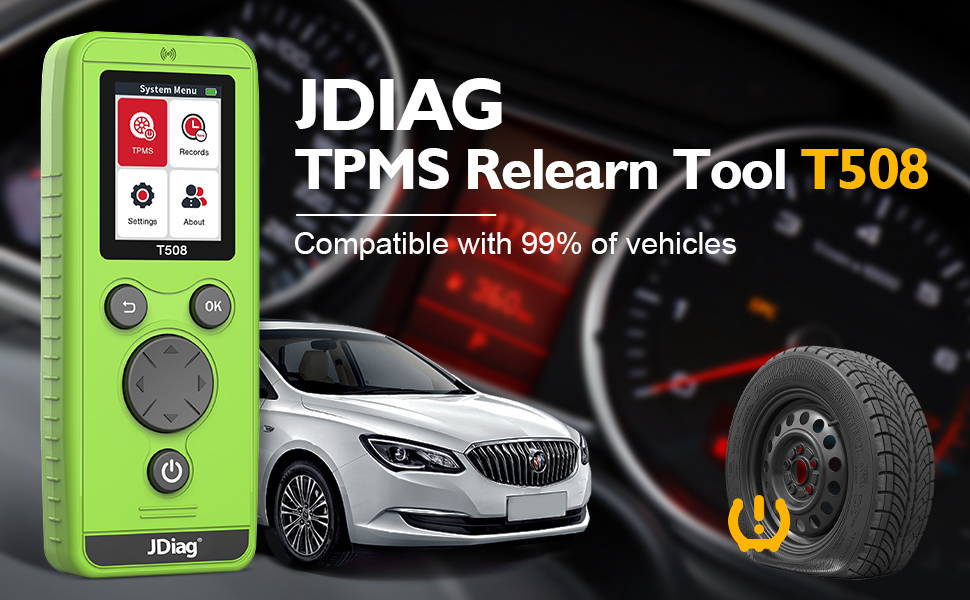 JDIAG TPMS Tool T508 - Help you to keep your Tire pressure monitoring system in good condition - Save Your Money & Time
Wide Coverage: 99% of vehicles equipped with 315/433 MHz will pair perfectly with TPMS relearn tool T508, get tire pressure sensor information read, and keep tires working normally. DO NOT need to go to the dealer or tire shop to rotate tires or activate the sensors every fall and spring, Save 50-100 USD each time.
Improving Overall Safety: Maintain correct tire pressure at all times with JDIAG TPMS reset tool, avoid tire underinflation to safely reach your destination.
Achieving Better Fuel Economy: Underinflated tires increase your car's fuel usage. To curb this, please maintain tire pressure within the normal range so your car can make the most of every gallon, improve your vehicle's energy efficiency.
Reduce Costs: In addition to reducing fuel consumption, T508 tpms sensor tool also helps prolong the lifespan of your tires. This means you'll buy fewer replacement tires, saving money in the process.
Auto Tire Pressure Monitoring: Reseting the tire pressure manually is a long, tiring process. With the right tire pressure relearn tool, the process becomes shorter and more efficient. You also get more accurate results.
Better Insurance Premiums: If an insurance evaluation confirms that you monitor your tire pressure and practice safe driving, you can gain some leverage and obtain better car insurance premiums. Maintaining general car safety makes you more appealing to your insurance company.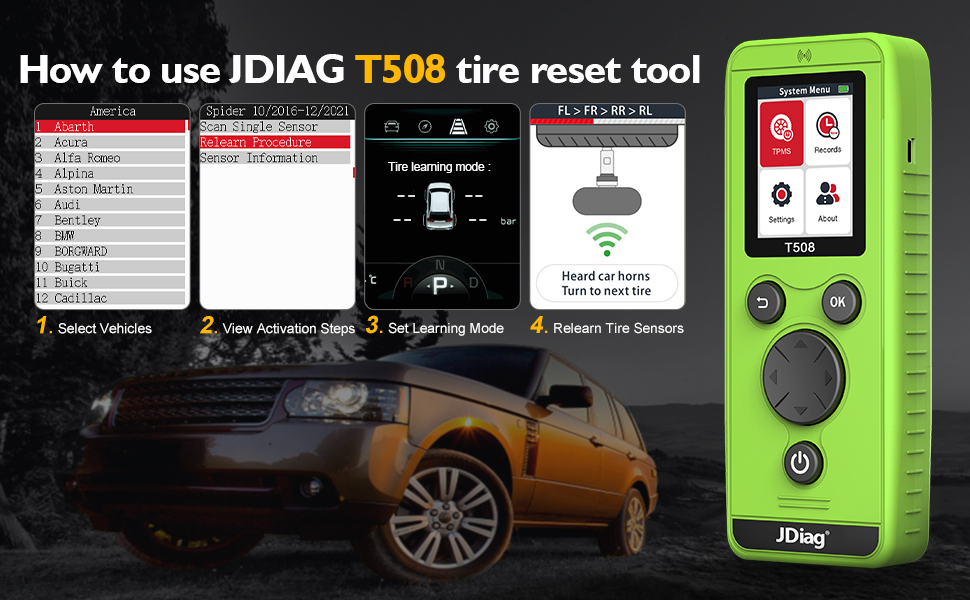 Step 1: Use 3 AA batteries to start T508 tire sensor reset tool, enter the [Tire pressure monitoring system] function and select your vehicle's Brand, Model and Year.
Step 2: If you don't know how to set the car into the learning mode or reset tire sensors, you can choose [Relearn Procedure] menu to view 'Tire Pressure Sensor Activation Steps'
Step 3: Please set your car into the tire pressure monitoring system learning mode.
Step 4: Enter [Scan Single Sensor] menu and place the t508 on the valve stem for the tire sidewall, press the OK key to relearn tire sensors, as the order of 'Front Left - Front Right - Rear Left - Rear Right'
An Essential Tool in Your Toolbox

Tips before using:

       The TPMS tool is unable to reprogram sensors, it's a relearn tool for tire sensor reset.

       Equipped with 315/433MHz tire sensor, It won't work if you've purchased aftermarket sensors with the wrong frequency.

       Please make sure to use three Brand NEW AA batteries, the battery is not included in the package, the magnitude of the battery voltage affects the signal strength of the product.

       Please make sure the antenna fits in the CORRECT position.

       Not for heavy trucks with more than 4 tires.

       Do tire reset outside instead of in the garage.

       Position of tires is also important, Front tires have to be straight.

       Sensors should be original OEM sensors which well programmed.
| | | |
| --- | --- | --- |
| | | |
|  You can set the sleep time you want, Auto sleep function will automatically start when you're no longer using it to save battery life. | Once connected T508 tpms reset tool, the laptop recognizes it as a removable device, copy the free updated file to the device and it is finished. | Support Multilingual [English, French, Russian, German, Italian, Spanish, Portuguese] & 5 Areas: the vehicle list will be different due to the different areas you selected. |
Package Include:
1 * T508 tpms activation tool
1* User manual
1* Quick Start Guide
1* USB Cable
【Friendly Tips】:
[1]. 3 AA batteries are NOT included, Please use brand new batteries before use, the magnitude of the battery voltage affects the signal strength of the product;
[2]. Please make sure the antenna is in the correct position while using T508 tpms sensor tool;
[3]. Not for heavy trucks and vans with more than 4 tires;
[4]. Subaru vehicles are different from other vehicles, it needs to use another obd2 scan tool to into the learning mode.
Data sheet
Upgrade

Lifetime

Warranty

1 Year
You might also like Products
16 other products in the same category
No customer reviews for the moment.