LAUNCH Creader HD 24V Heavy Duty Truck Diagnostic Tool
Brand: LAUNCH
LAUNCH Creader HD 24V Heavy Duty Truck Diagnostic Tool HOBD Diesel CRHD Heavy Truck Scanner OBD OBD2 Code Reader For MAN Volvo
Security Payment
Guard your secure payment with SSL.
Delivery Policy
Handling time with 24 hours.
Return Policy
30 days free return, 3 months exchange, 3 years warranty.
LAUNCH Creader HD 24V Heavy Duty Truck Diagnostic Tool HOBD Diesel CRHD Heavy Truck Scanner OBD OBD2 Code Reader For MAN Volvo
CR-HD is the best heavy truck code reader which Launch latest developed.It has integrated the basic diagnostic functions of three heavy duty truck standard protocols (J1939,J1587 and J1708) Applied 2.8" color LCD,equipped with 6PIN and 9PIN additional diagnostic connectors, which can provide highest quality, most convenient, and most reliable diagnostic service for heavy duty trucks.
It also can support basic OBD2 function for 12V car.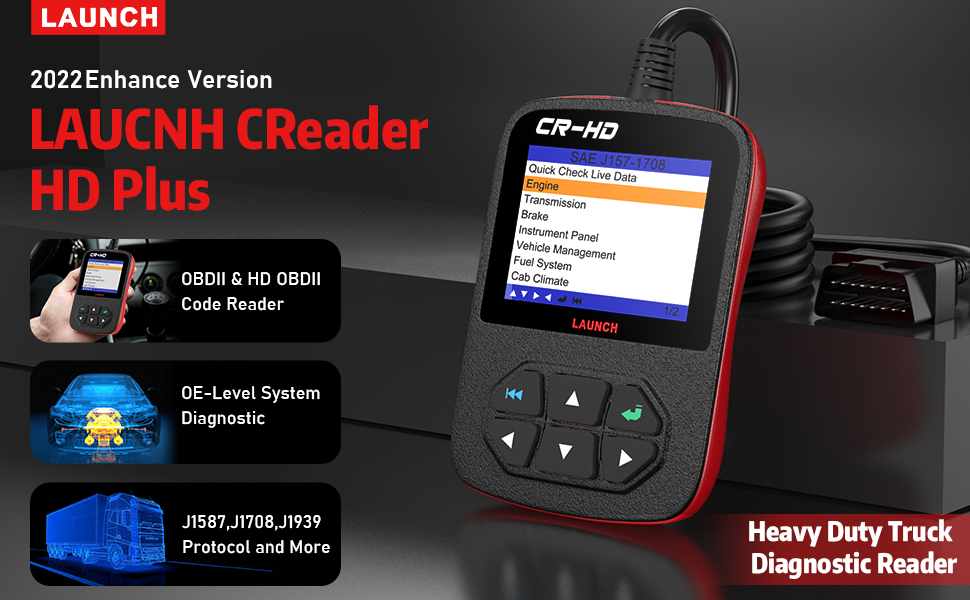 LAUNCH OBD Creader CR-HD Support Language:
English, French Spanish, German
LAUNCH CR-HD For Man Diagnostic Tool Description:
1. Covers Class 4 (14, 001 lbs. ) through Class 8 (33, 000 lbs. and over) Heavy Duty Trucks.
2. Includes 6-pin and 9-pin Deutsch connectors PLUS OBDII 16-pin connectors.
3. Provides J1587, J1939 and J1708 protocols- Heavy Duty Standard.
4. Now includes Generic/Global OBD II 16 PIN (cars and light trucks) communication-Modes 1-10.
5. Read and Clear Active and Inactive Fault Codes. Easily determines the cause of the Check Engine Light(MIL). Turns off Check Engine Light (MIL), clears codes and resets monitors.
6. Reads, records, graphs & playbacks live sensor data. Reads live O2 sensor test data and EVAP data stream, displays monitor and I/M readiness status (emissions).
7. Coverage for Engine, Transmission, Brakes and More via Heavy Duty Standard.
8. Monitor all Data and View Live Data Streams, allows you efficiently figure out the
9. Health of the engine of your car and locate bad sensors.
10. Full color 2. 8 LCD Display with extra long 6. 5 ft. Cable.
11. Added Storage Case.
12. Life time fre~ internet updates.
OE-Level System Diagnostic for Almost All Diesel Heavy Duty Trucks
★ Engine System: Always confused with the flashing check engine light, right? As a matter which occurs frequently, check engine light will appear because of various problems, for example, the engine injector should be cleared or engine combustion is not good. If the problem is not solved in time, it will affect the quality of vehicle exhaust and pollute the environment. This check engine code reader will do you a favor to locate the cause and turn off the check engine light with the problem resolved.
★ Transmission System: The automatic transmissions (A/T) is one of the powertrain control module parts, playing an important role in the vehicle. It's hard to locate the accurate error within limited time. Then you will need the LAUNCH CRHD Plus transmission scanner to pinpoint the issue of the transmission system after reading the fault codes. Next, the warning light will be turned off after the transmission code scanner resets codes for the transmission system. You should fix the problem first before clearing the fault codes.
★ Brake System: Ability to figure problems via reading/erasing error code in the braking system, An Anti-lock Braking System(ABS) is a safety feature in vehicles that help the driver maintain control during emergency braking situations. Without it, more driver skill is needed to stop in unexpected situations,fre~ing you to concentrate on steering.
★ Instrument Panel System: A well-functioning, always ready, Supplemental Restraint System (instrument panel) is absolutely critical for occupant and driver safety. Even minor issues might impact the operation, and performance, of the instrument panel system. The LAUNCH CRHD Plus truck scanner quickly, and efficiently, allows the user to retrieve, read and interpret instrument panel issues and monitor system system functionality to rapidly diagnose, and repair, the cause of the issue.
★ Cab Climate System/Vehicle Management System/Fuel System: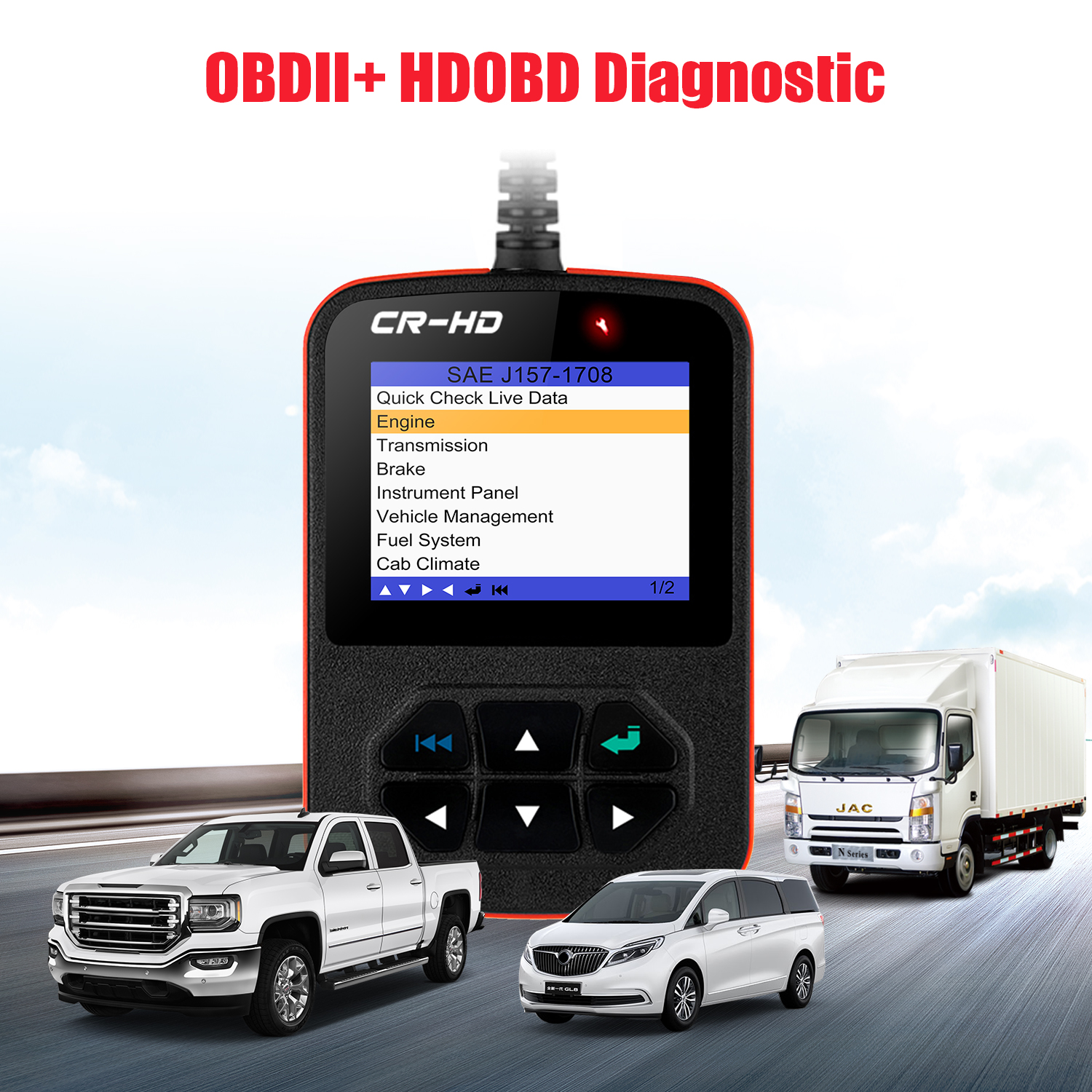 The Function for 24 Truck :
Support System : Engine system , Transmission System , instrument panel system , ect
Function : Read troble codes , clear troble codes and read data stream information
Support protocols: J1939,J1708,SAEJ1979(OBDII)
The Function For 12V Car :
Read fault ,Delete Fault code , Live Data ,Read Vehicle information ,O2 Sensor Test ,EVAP System Test , On-board mintor Test , DTC Code lookup , IML Fault indicator , View Freeze frame, I/M Readiness
Support OBD 2 protocols car :
1. SAE J1850 PWM(41.6Kbaud)
2. SAE J1850 VPW(10.4Kbaud)
3. ISO9141-2(5 baud init,10.4Kbaud)
4. ISO14230-4 KWP(5 baud init,10.4 Kbaud)
5. ISO14230-4 KWP(fast init,10.4 Kbaud)
6. ISO15765-4 CAN(11bit ID,500 Kbaud)
7. ISO15765-4 CAN(29bit ID,500 Kbaud)
8. ISO15765-4 CAN(11bit ID,250 Kbaud)
9. ISO15765-4 CAN(29bit ID,250 Kbaud)
Support Car :
American Car : Need Standard OBD2 Protocols from 2000 to now
European Car : Need Standard OBD2 Protocols from 2003 to now
Japanese/Korean Car: Need Standard OBD2 Protocols from 2006 to now
Chinese Car: Need Standard OBD2 Protocols from 2009 to now
Powerful Compatibility for Most 24V Diesel Hevay Duty Trucks and 12v Cars
For Cars (12V): (Please enter the menu "OBD-II" if you're going to diagnose 12V cars.) Car(America): Compatible for Buick, Cadillac, Chevrolet, Chrysler, Dodge, Ford, GM, GMC, Lincoln, Jaguar, Jeep, Pontiac, Saturn;
Car(Europe): Compatible for Audi, Bentley, BMW, Fiat, Jaguar, Land Rover, Mercedes Benz, Mini, Porsche, SAAB, Smart, Sprinter, Volvo, VW;
Car(Asia): Compatible for Acura, Dawood, Honda, Hyundai, Infiniti, Isuzu, Kia, Lexus, Mazda, Mitshubishi, Nissan, Scion, Subaru, Suzuki, Toyota; Pickup(or Van): Silverado, Coronado, Ford(F150-750), Ford E-series, Dodge RM 1500-5500, GMC, Nissan Frontier, Toyota;
For Truck (24V): (Please kindly enter the menu "Diesel OBD" if you want to diagnose those vehicles.)
1. Freightliner, Mack, Peterbilt, Sterling, Western Star
2. Fuso, Hino, International, Isuzu, Iveco, Mercedes Truck, Man, Scania, Renault, ERF, DAF, Nissian UD, Paccar
3. Volvo, GMC truck, Mack
NOTE:
1. Please check your truck user manual to make sure your truck ECU is in compliance with J1939, J1708 and J1587 protocols.
2. Due to the complexity of the agreement of cars produced by car manufacturers, Please provide your vehicle information before purchasing if you can't confirm whether the scanner can work on your vehicles.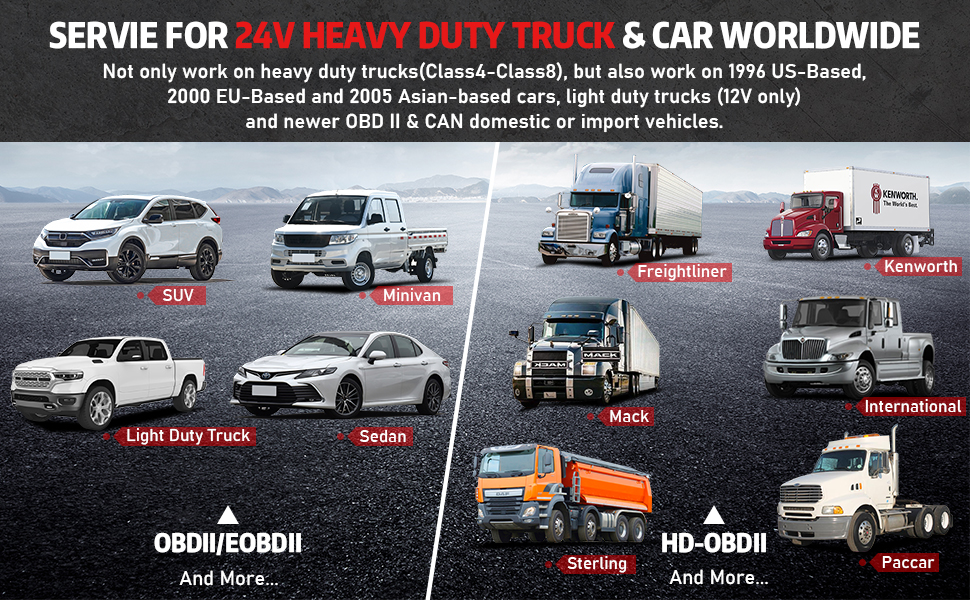 LAUNCH CR-HD Truck Scanner Supported Car List
Support 6PIN, 9PIN, and 16PIN diagnostic connectors
Support J1939,J1587 and J1708 Protocol.
If you choose full version, more connector are contained.
Note:If you not sure if this device can support your car or not , pls leave us message. xxx car brand, xxx car model ,xxx year,Thank you.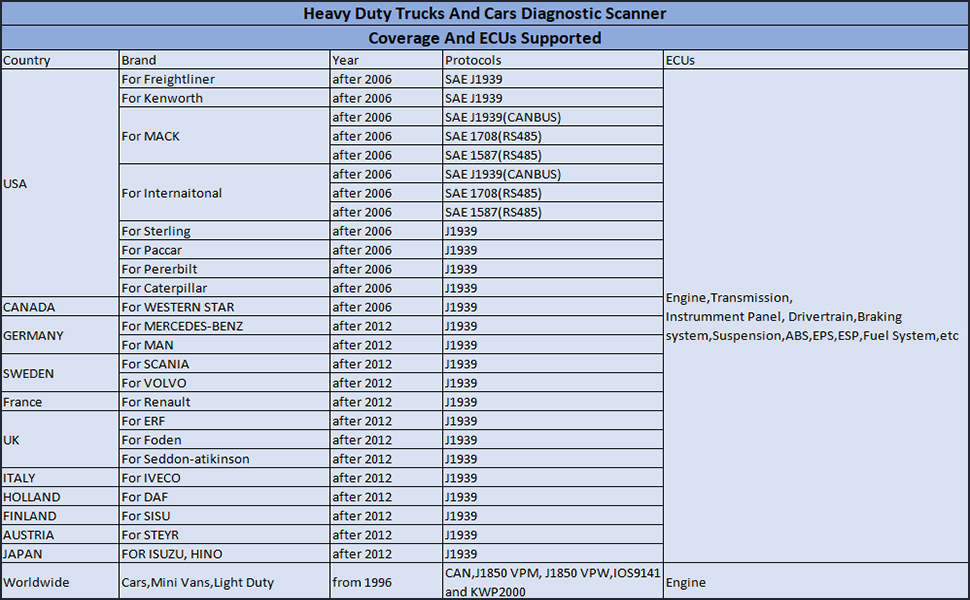 BUYERS TIPS
1. Please connect the network to enter the setting, and click Activate to activate the machine before operation
2. Please check your truck user manual to make sure your truck ECU is in compliance with J1939, J1708 and J1587 protocols.
3. Please let us know your truck information if you are not sure whether this scanner is compatible with your truck or not.
4. Please enter through "Diesel OBD" on the menu if you want to diagnose heavy-duty trucks. Please enter through "OBDII" if your vehicle is car, SUV, Mini-Van, light super-duty, or other light-duty vehicles.
5. Please notice some functions can only work when connected to the network, like Activate/Share via Email/Print/Update/feedback.
6. Launch Creader Heavy Duty Truck obd2 scanner is "PLUG AND PLAY", it does not require any Battery or Charger, Just need to connect the diagnostic cable into the vehicle's DLC socket. Very easy to use for 7.beginners and it reads and analyzes data in seconds. It gets the power directly from the OBDII Data Link Connector in your vehicle.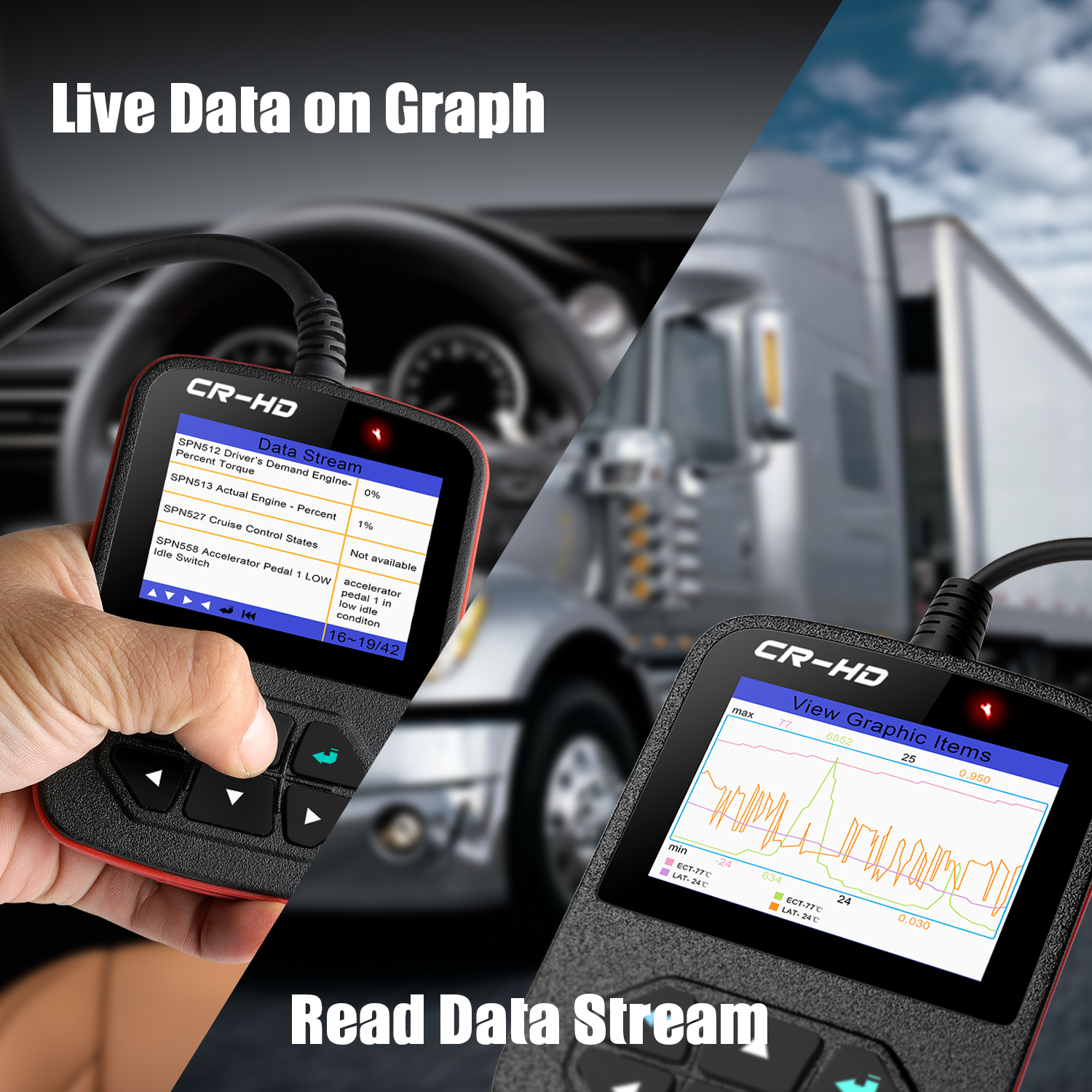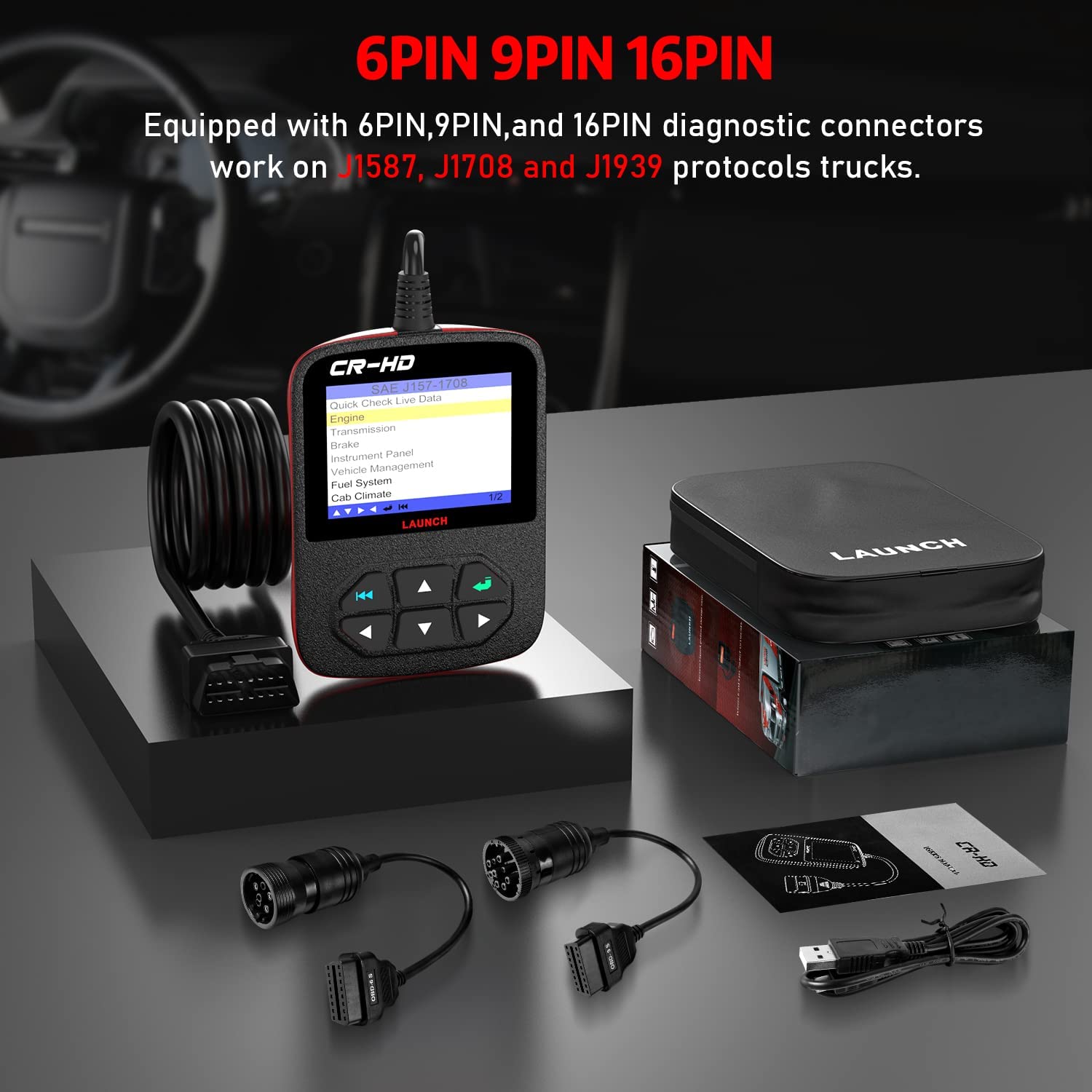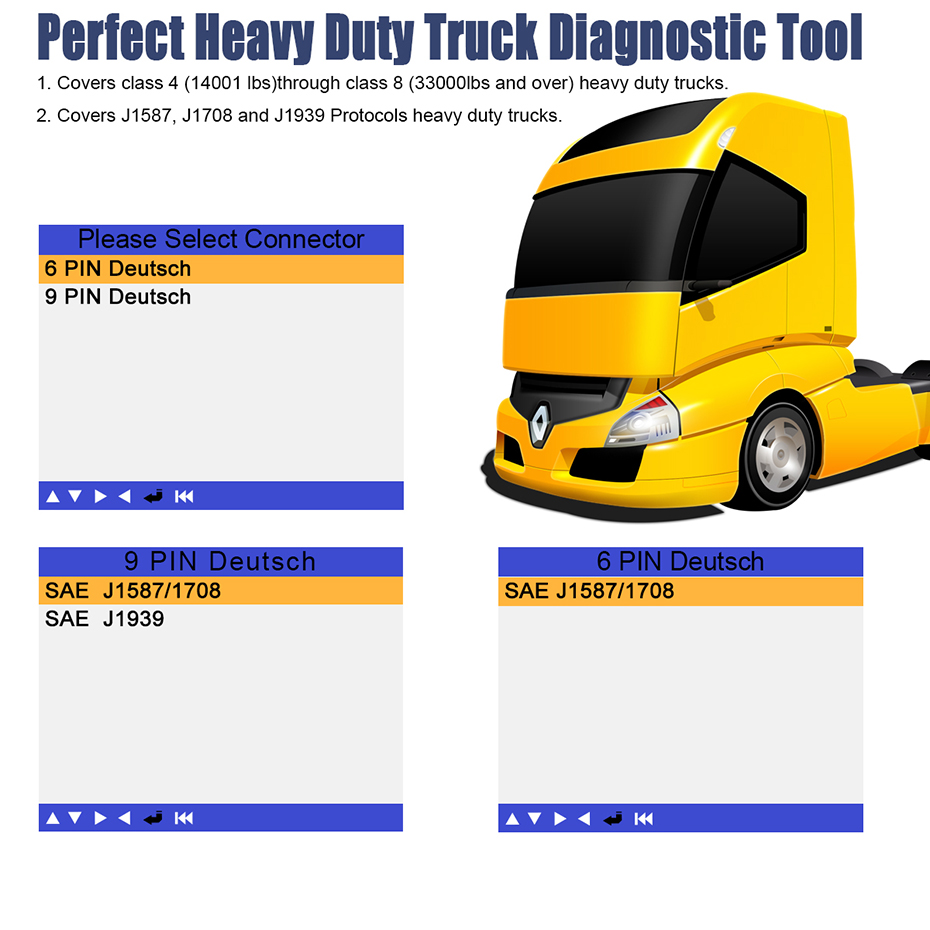 LAUNCH Truck OBD Scanner CR-HD Update Guidence:
Update: free upgrades on LAUNCH official website.
1. Plug CR-HD with your laptop via USB cable.
2. Go to official website download "CReader Client Update Tool", and install on laptop.
3. Download the update software and choose language version.
4. Click Update, enjoy new version.
Tips: It only can be updated on Windows XP/7 PC. If the device not be recognized during updating, please check if the driver is installed, you can find the driver in the device manager.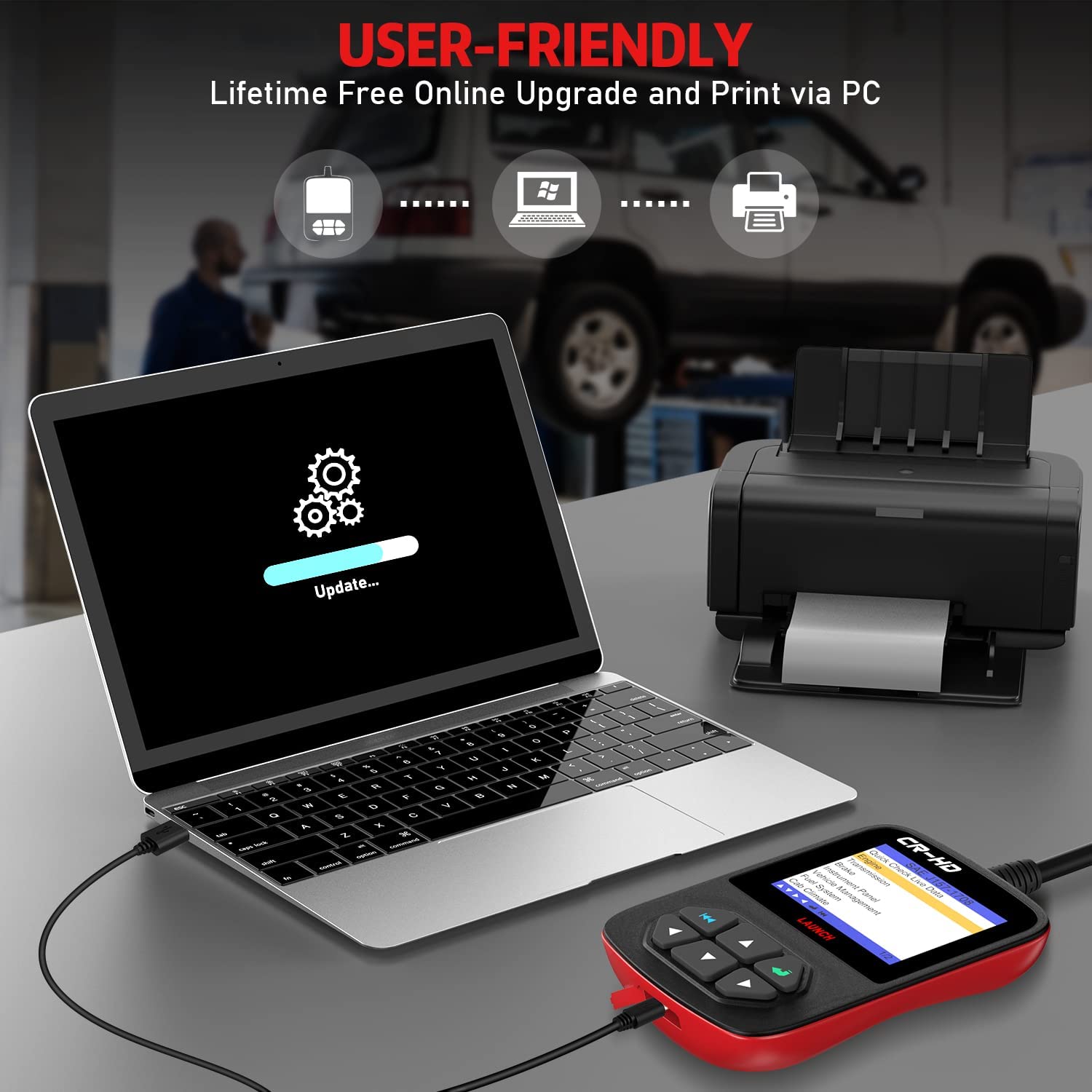 Worry-Free Purchase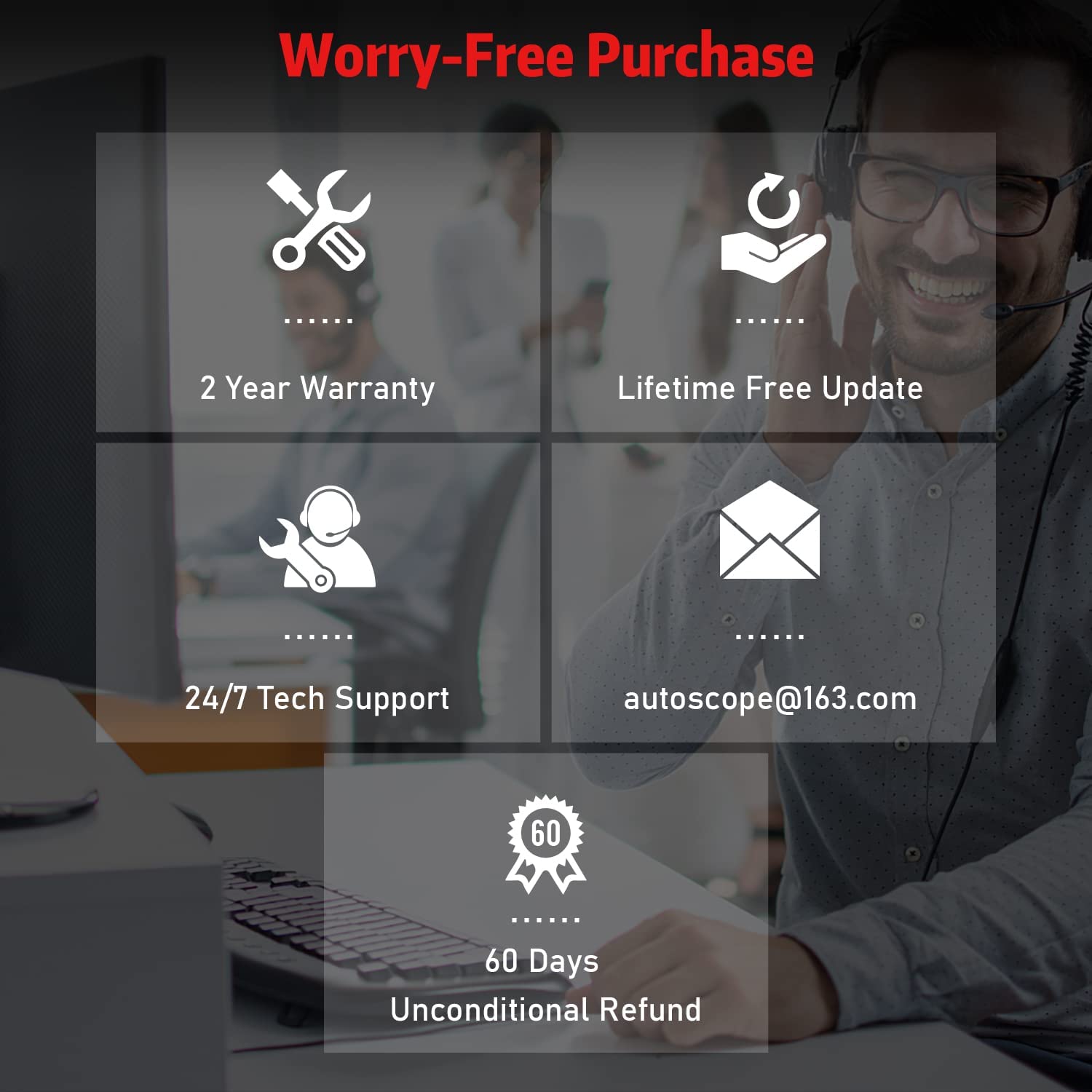 LAUNCH Truck Scanner CR-HD parameters:
-Screen: 2.8", 262K true color, 320*240 LCD
-Input voltage range: 8~36V
-Operating current: typically <100mA
-Typical power consumption: <1.2W
-Wire connection: 6PIN, 9PIN, 16PIN diagnostic connector
-Environmental temperature: 0degC~50degC
-Storage temperature and humidity: -20degC~70degC@ RH 60%
-External dimension: L*W*H=121*82*26mm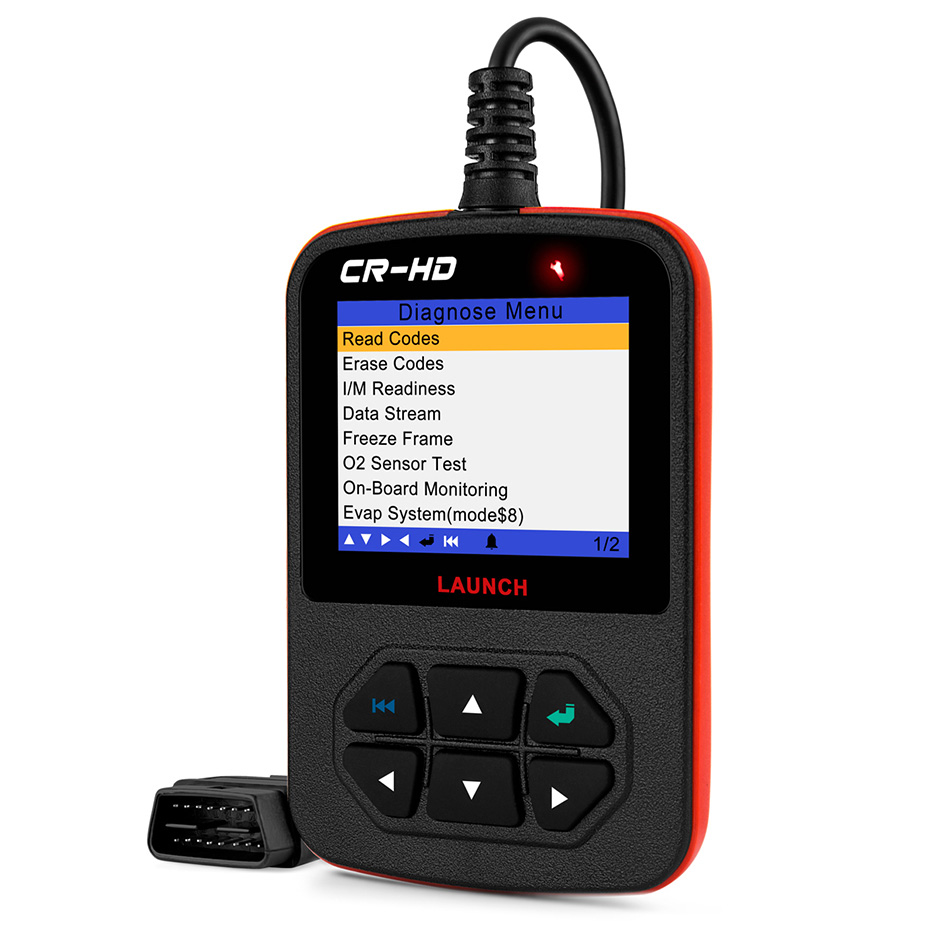 Basic Version
1*Main Unit
1*6 Pin connectors
1*9 Pin connectors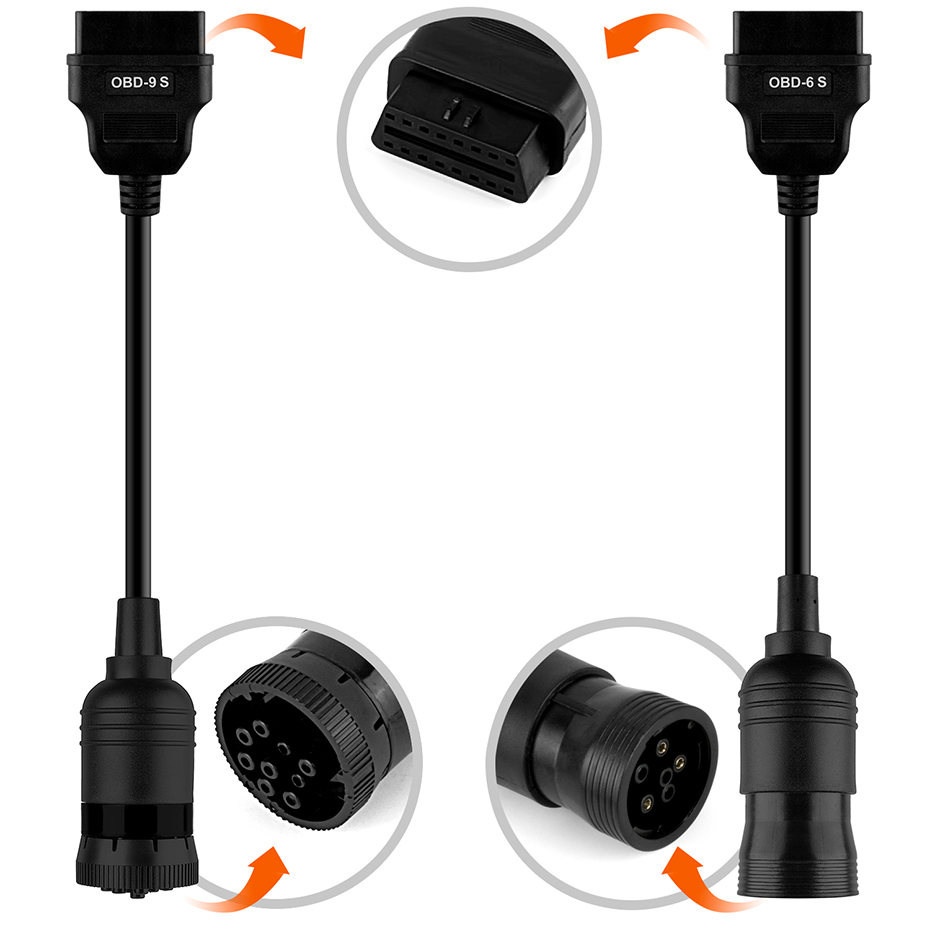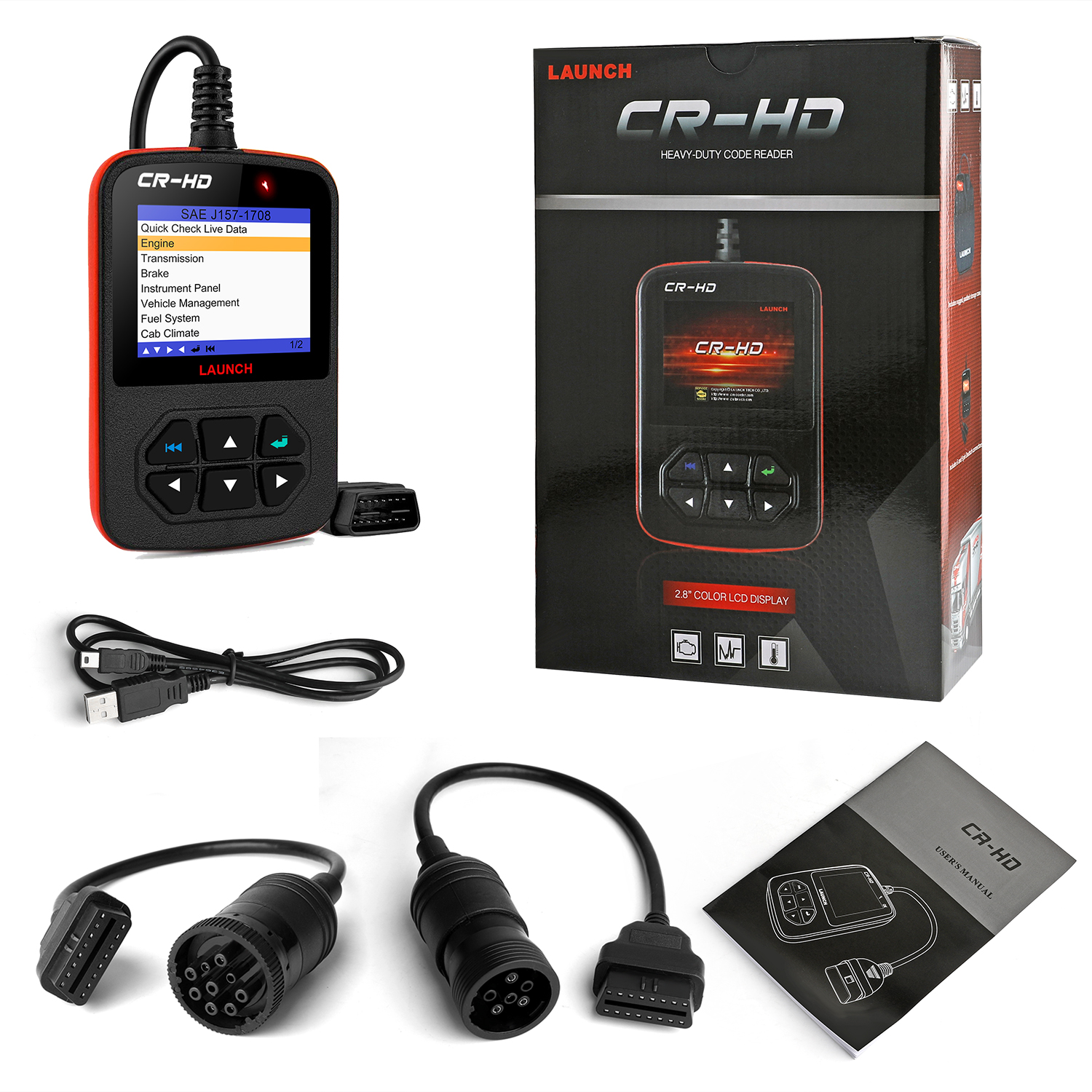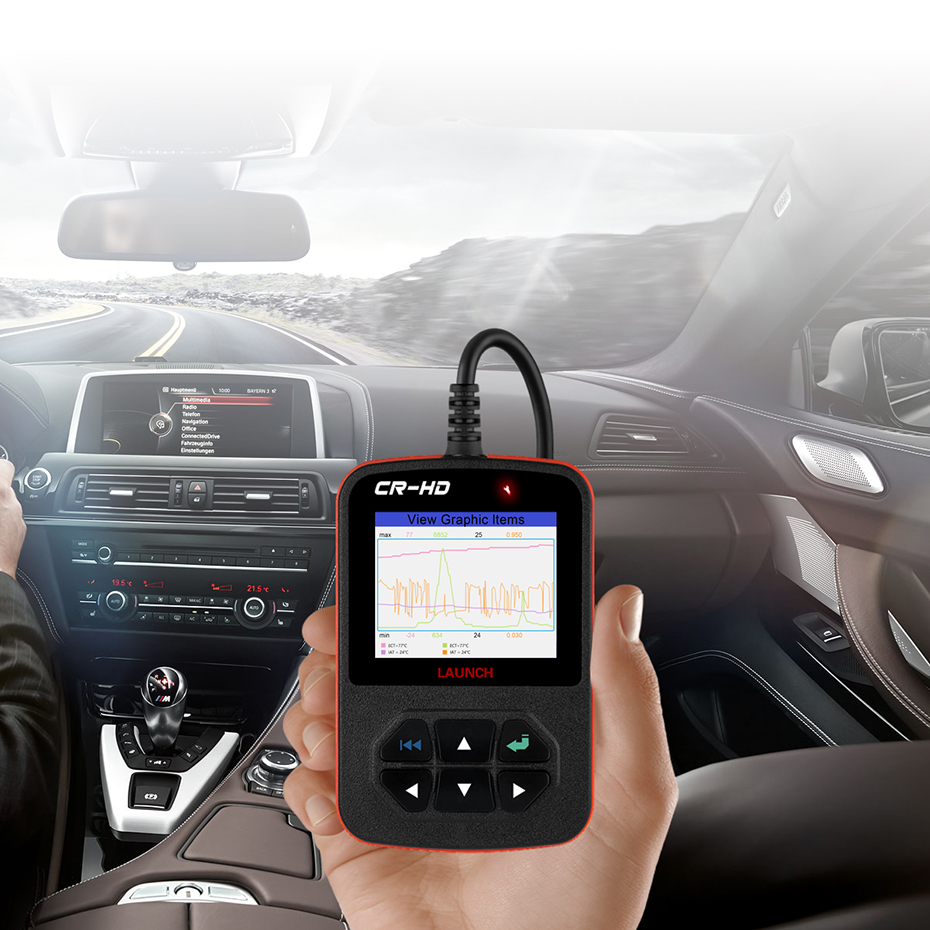 You might also like Products
16 other products in the same category
No customer reviews for the moment.